TABLE OF CONTENTS
INTRODUCTION
SAMPLE RECIPE
BUY BOOK
Orecchiette with Sausage and Greens
Introduction
This is a very simple and flavorful pasta dish to make. You may use kale, Swiss chard or broccolini for the greens. Double the amount of Swiss chard if you decide to use this green. Swiss chard will significantly diminish in volume once sauteed.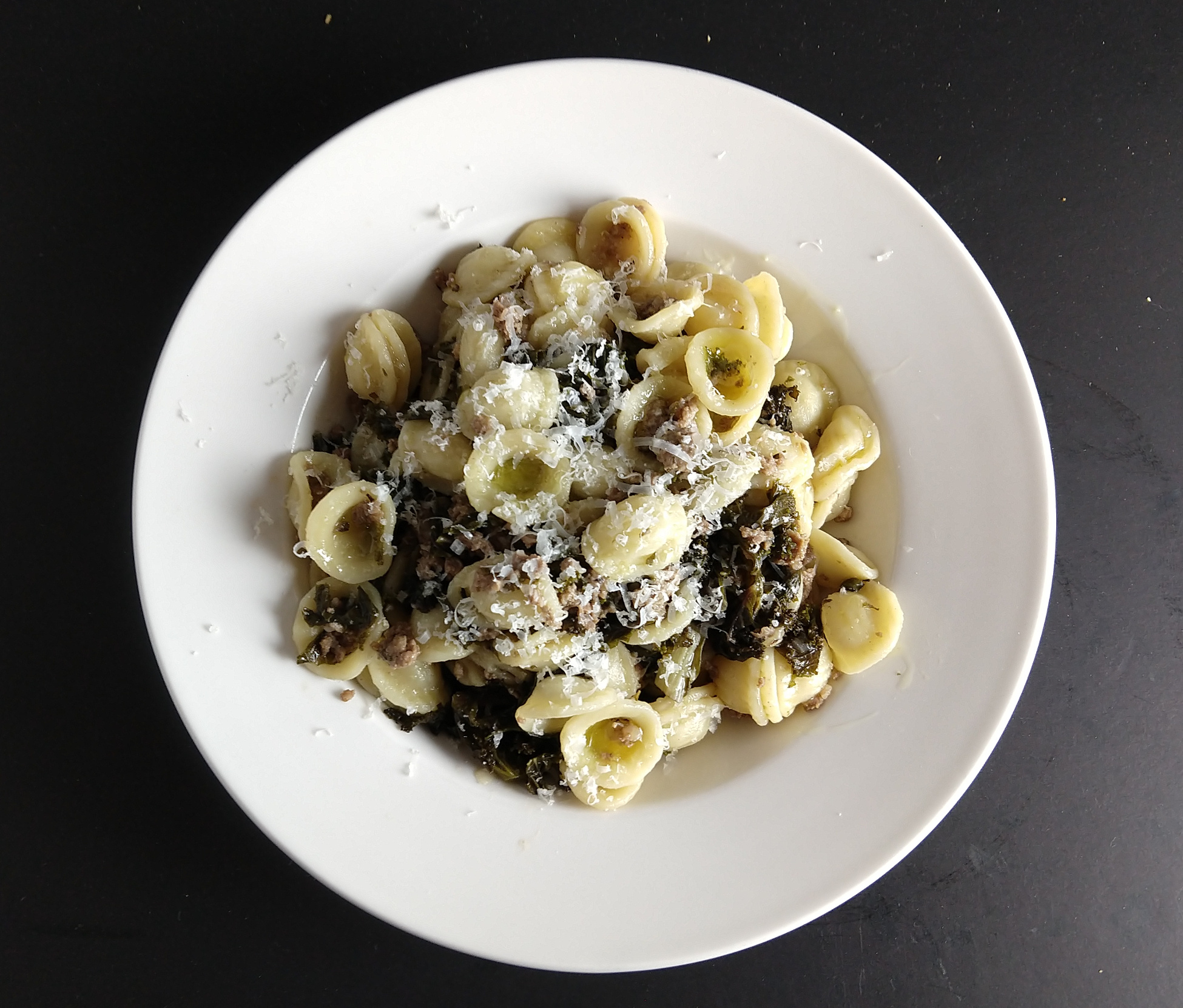 Orecchiette with Sausage and Kale
Ingredients
Orecchiette pasta 454 g or 1 lb
Italian sausage 454 g or 1 lb
Large bunch of greens kale, Swiss chard or broccolini
Chicken stock 240 g or roughly 1 cup
Garlic 2 cloves
Red pepper flakes
Olive oil
Lemon zest from 1 lemon
Parmesan cheese
Salt
Directions
Bring a stock full of salted water to a boil. Wash and coarsely chop kale or Swiss chard and set aside. If you are using broccolini, cut into small florets. Remove sausage from its casing and sautee in a large pan with a small amount of olive oil until lightly browned. Add more olive oil if necessary and sautee the greens in the same pan with sausage until wilted. Add minced garlic, red pepper flakes and salt to taste. Cook an additional minute and then add chicken stock to pan. Deglaze any brown bits on the bottom of the pan with stock. Cover and continue to simmer for about 15 minutes. Put pasta in boiling water and cook until just short of al dente about 8 minutes. Drain pasta and transfer it into the sautee pan with sausage and greens and toss to combine. Increase heat to medium-high and continue to cook pasta and reduce stock until sauce is slightly thickened, 2-3 minutes. Adjust seasoning with salt. Transfer to a serving platter and finish with extra virgin olive oil, grated Parmesan cheese and lemon zest.